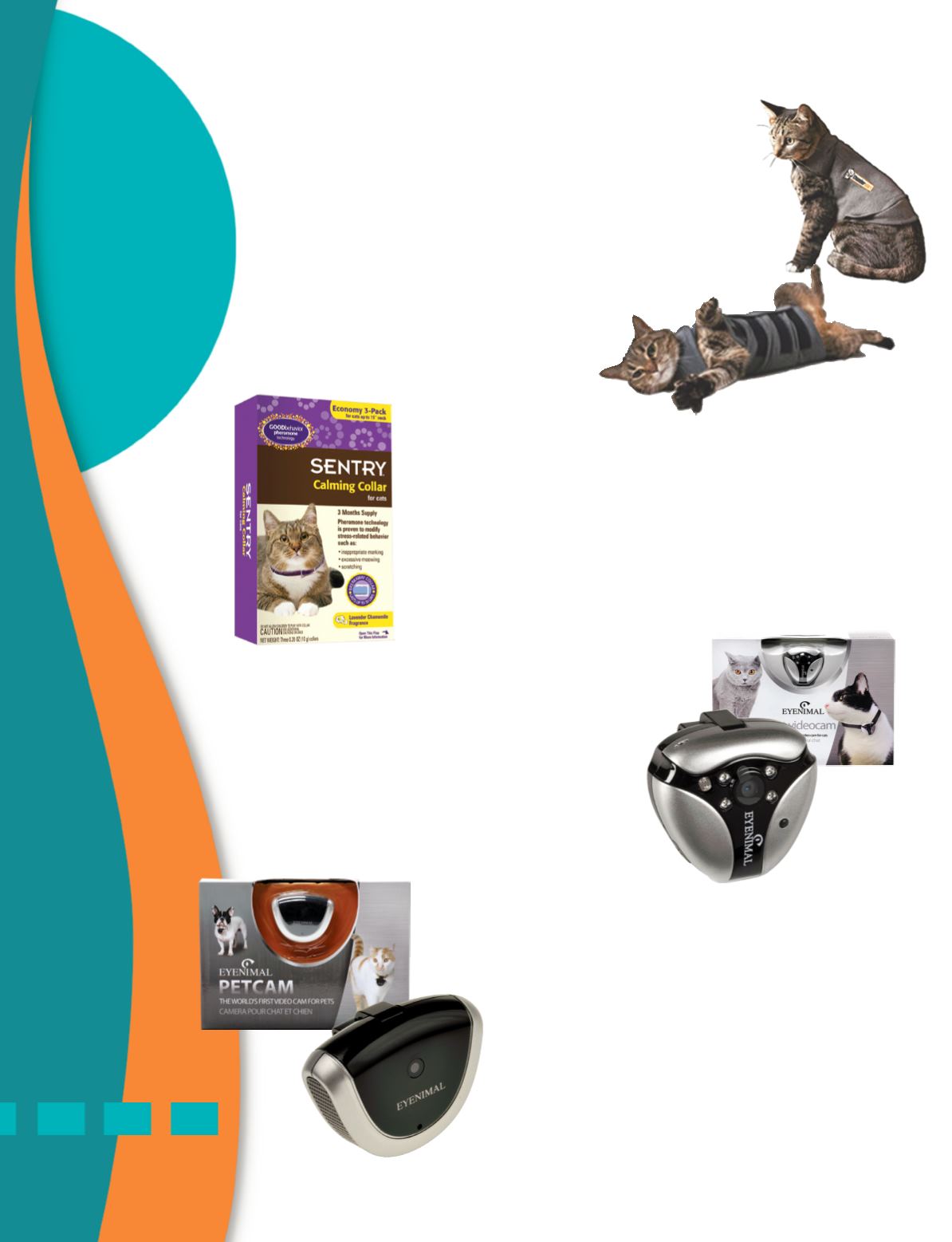 Feline
Feline THUNDERSHIRTS
The Best Solution for Cat Anxiety! The solution that has already helped hundreds of
thousands of dogs is now working it's magic with cats. For many anxieties and situations,
Thundershirt's gentle, constant pressure should be an effective solution for your cat.
Many cats will exhibit reduced or eliminated symptoms with the very first usage, (e.g. reduce
vocalizations, calmer car travel, easier handling by vet staff, etc.) but for some it may take
three or four usages before any improvement is shown. Available in 3 sizes.
Chest size: 9" up to 13" Weight - under 9lbs
Chest size: 17" up to 24" Weight - 13lbs and up
SENTRY® Calming Collar for Cats
SENTRY® Calming Collars use patented Good Behavior™ pheromone technology.
Using a pheromone that mimics the one mother cats produce to calm their kittens,
the collars are clinically proven to reduce or eliminate stress-related behavior such as
inappropriate marking, destructive behavior, clawing and anti-social behavior. Collars
help alleviate problem behaviors triggered by travel, thunderstorms, fireworks and
new social situations. This collar continues to release calming pheromones to your
cat for 30 days. It can be used for cats of all ages and breeds without long-term side
effects. This economy 3-pack is perfect for multi-cat households.
Eyenimal Cat Videocam
The Cat Videocam allows to catch beautiful scenes from your cat eyes.
It's the essential device of the owner who wants to know everything
about the behavior of his cat.
Features:
* Tiny size: 41x44x25mm *Night
vision (up to 2m) *Movement detector to stop recording when the cat
sleeps *Battery life: up to 2.5hours. *Flash memory 4GB *Weight: 32g
*Video capture resolution: 736 x 480 pixels *Integrated microphone
Eyenimal Petcam Videocam
The Petcam allows cat and dog owners to step into the lives of their
favorite pet. It's the essential device of the owner who wants to know
everything about the behavior of his pet.
Features:
*Integrated microphone *Suitable for cats and dogs *Very easy to use
*Battery life: 2.5 hours *Flash memory 4GB *Video transfer and battery
recharge via USB connection *Video capture resolution: 680 x 480
pixels *Dimensions: 60x45x15mm *1-year warranty.